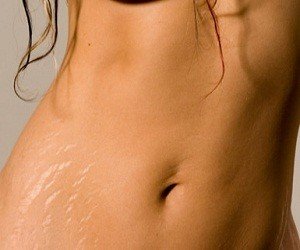 There are several things that impact your life after pregnancy. Aside from adapting to a more hectic schedule with the baby, you will also discover that your body is not as how it used to be before mommyhood. For instance, losing the extra body fat may take some time, and you may notice some marks on your buttocks, stomach and breasts. In fact, all women get these stretch marks as their bellies suddenly become smaller and the skin gets looser after giving birth. The marks get more noticeable after the first pregnancy, and getting rid of these may be tougher than you think.
What Causes Stretch Marks
Generally, these marks appear once you gain weight so quickly that the skin is stretched tightly. As a result, the elastic fibers that are found under your skin's surface break. Hence, stretch marks are formed. This is particularly true among women during their pregnancy as they gain at least 30 pounds or so throughout the 9 months. The same holds true among people who suddenly put on several pounds and begin to lose weight rapidly.
Initially these appear as purplish or reddish in color. However, they will progress to gray or silver once they have faded over time. By then, the lines will be evident and difficult to remove unless the right techniques are applied. With this in mind, it is important that while the marks are still in their initial stage, you should consider using the right products to diminish these lines until they are barely noticeable.                                    
People Prone to Stretch Marks
Based on a study by the American Academy of Dermatology, several people are most likely to have stretch marks at certain points in their life. These include the following:
At least 90 percent of women who are in their third trimester or sixth to seventh month of their pregnancy
Having a mother who had stretch marks as genetics is another factor that affects the appearance of these lines on your skin
Obese people who lose a significant amount of weight quickly
It is also worth noting that regardless of your skin tone or complexion, you are not exempt from getting these unsightly lines. For people with darker skin, the marks appear to be silvery or lighter than their natural color once these begin to fade. As for those who have fairer or lighter skin, the marks will have a pinkish color. So, no matter what your complexion, these marks will always impact your look unless you do something about them.
The truth is, stretch marks can never be completely removed. It is something you will have to deal with once you give birth or lose weight after living your life being overweight or obese. However, you can minimize the nasty appearance of these lines by keeping your skin properly hydrated. Use 
stretch mark cream
 or moisturizing lotion to maintain hydration in your skin. Special creams can also give your skin that smooth and supple quality while reducing the itchy feeling on your stomach during the third trimester of your pregnancy
Staying well-hydrated is indeed an excellent way to reduce the possibility of getting unsightly marks on your skin. Skin creams can also improve the quality of your skin by making it appear more toned, less itchy and more flexible. Drinking plenty of water for proper hydration is another possible means of making these lines on your stomach appear not as pronounced as when you have dry skin.
Most marks fade over time, and from purple, these lines become silvery and white. However, there are some people who complain about having darker and more visible marks instead of seeing these fade and become less unappealing. This is why it is important to treat these marks on the skin while they are still in the first stage. Basically, this is the time when the marks are reddish in appearance, so do not wait for the lines to turn silvery before you do something about them.
There are various options when it comes to products helpful in treating these marks such as a combination of 
hyaluronic acid
 with some onion extract. A gel can be made using these two ingredients, and it must be applied directly on the lines. After at least 12 weeks of using the product regularly, the marks are expected to fade quickly.
There are also other options of stretch mark removal, but these are not purely natural techniques. For instance, the use of retinoid creams can be rather effective in minimizing these marks, based on dermatologists. The secret to having successful results with it is by applying it on the affected area. This product ensures quick cell turnover, which is necessary in promoting the growth of new collagen while making the skin healthier and more attractive.
Applying lasers, which generate heat to the skin, is also recommended by most people who have found an effective means of removing stretch marks. Laser results in quicker collagen growth while keeping dilated blood vessels much smaller. Keep in mind, though, that laser treatment is given in several sessions to achieve positive results. Hence, it can be expensive and not too practical among people who want a cheaper, yet effective way to get rid of stretch marks fast and naturally.